As Charlotte Mason newbies, the idea of nature study is simultaneously appealing and overwhelming. For me, at least. The girls, Angie in particular, couldn't wait for the school year to begin so she could start her nature journal and "go on nature walks all the time". (I couldn't wait for the school year to begin so that we could get stuck into the literature.) So I think I need to work on emulating Angie's enthusiasm and try not to feel so overwhelmed.
This post may contain affiliate links. For more information, please see my disclosure policy.
Our nature study this month is birds, which coincides nicely with the theme of the first nature book club. I found Birds for Beginners in Southern Africa at our local library and grabbed it without giving too much thought about how to use it for this post.
I didn't read the whole book to the girls. Actually, I just showed them a few diagrams. The book has a lot of information and definitely falls into the category of "text book" and not "living book". (sorry, Charlotte.) I found it useful for me as their teacher, though. I can now look at the feathers left over after the cat's hunting expedition and explain which one is a flight feather, which is a contour feather and which is down.
I also found the page on sketching a bird in the field to be helpful, as well as the page on how to attract birds to our garden. I' making plans to turn a tree stump into a bird bath and hand a feeder in the front yard. (I'm sure the cat will appreciate more feathered friends to "play" with, too.)
We went to the Montecasino Bird Gardens last week. The kids enjoyed it, despite the crazy heat. We tried our hand at coloured pencil drawings while at the gardens.
Then, at home, we did watercolour paintings from our pencil drawings.
We've also experimented a bit with dry brush painting. The cat helpfully provided the feathers for us. We did some lead pencil sketches, too, but this post already has too many images. If you're really keen to see them, pop on over to my Instagram page and find them there.
Marci Goodwin of the Homeschool Scientist is giving away her ebook Backyard Science. The ebook contains eight chapters of backyard science lessons and activities. It includes printable worksheets and hands-on activities. Click on the image to get to the ebook, then use the code "bookclub".

Welcome to The Nature Book Club Monthly Link Up No 1.
The Nature Book Club is a monthly link up beginning on the 20th day of each month.
It's a monthly book club devoted to connecting children to nature. There is a theme for each month in 2018. We welcome your nature book and activity related links!
January Nature Theme: Winter Bird and Nests
This month's theme is winter birds and nests.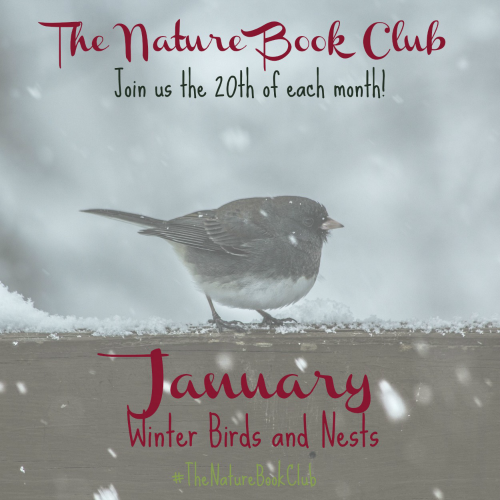 The Nature Book Club is brought to you by these 15 nature loving bloggers and your cohosts! Be sure to follow them.
Here are the bloggers, their choices of books, and activities for the month.
Something 2 Offer
Birds, Nests and Eggs – Winter Bird and Nest Scavenger Hunt
The Usual Mayhem
The Boy Who Drew Birds – Free artist study set (John James Audobon)
Preschool Naturally
Whose Nest Is This? – Nest Building Activity
Tina's Dynamic Homeschool Plus
(Backyard Bird Series) Cardinals – Free Northern Cardinal Unit Study & Lapbook.
Rule This Roost
Fine Feathered Friends: All About Birds – DIY Bird Feeders
Hide The Chocolate
Those Darn Squirrels Fly South – Free Online Book Club
The Homeschool Scientist
Birds Nests and Eggs – Make a Suet Feeder
Forgetful Momma
Snowy Owls – Snowy Owl Craft
Table Life Blog
A Nest is Noisy – Art Project.
Eva Varga
Winter Bird ID – Ravens in Winter: Nature Study Activities and Lessons for Teens
Handbook of Nature Study
Backyard Birds Field Guide for Young Naturalist – Backyard Bird Nature Study
The Playful Scholar
Backyard Birds of Winter by Carol Lerner – How to Make Hanging Suet Ornaments
Rainy Day Mum
Coming Home by Michael Morpurgo – Needle Felted Robin
Freshly Planted
"nest" by Jorey Hurley – Nest Weaving Nature Craft
The Nature Book Club theme for February: Small Mammals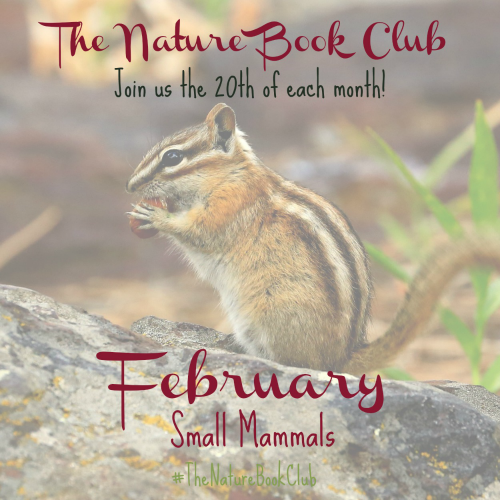 Party Rules
Easy Details to Remember
Choose an engaging nature book, do a craft or activity, and add your post to our monthly link up.
The link up party goes live at 9:00 a.m. EST on the 20th of each month and stays open until 11:59 p.m. EST on the last day of the month. Hurry to add your links!
You can link up to 3 posts. Please do not link up advertising posts, advertise other link up parties, your store, or non-related blog posts. They will be removed.
By linking up with us, you agree for us to share your images and give you credit of course if we feature posts.That's it! Let's party